Rangitoto Island a Landmark on Auckland's Horizon
The iconic shield volcano cone of Rangitoto Island lets scenery-sweeping eyes linger from afar.  Reason enough for many artists to make the volcanic island theme of their artwork.
Here is a fine selection of art prints by Auckland and New Zealand artists ...

The symmetrical, fife and a half kilometres wide, island has a height of about 260metres. Separated by the Rangitoto Channel from the North Shore of Auckland, Rangitoto is the youngest of about 50 volcanoes that are scattered in the Auckland area. A land way connects the volcanic island with the close by much older Motutapu Island. Though the youngest volcano, it is still 550 to 600 years in the past when two eruption episodes, of 10-50 years apart, occurred to give Rangitoto its final shield shape. Each eruption episode lasted for several years.
The name Rangitoto is Māori for 'Bloody Sky'. It is the short form to Ngā Rangi-i-totongia-a Tama-te-kapua ('The days of the bleeding of Tama-te-kapua') and gives reference to a lost battle on the island when the captain of the Arawa waka was injured.
Daily cruise tours leave at the ferry building in Auckland, pass Devonport and arrive about 25 min later at the scenic reserve on the island. One-day island explorations introduce visitors to the islands rare fauna, volcanic tunnels and enjoying the view off the summit. Guides or educational signs reveal the island history as well as its role through world war two. 
Waitakere Wairua by Shane Hansen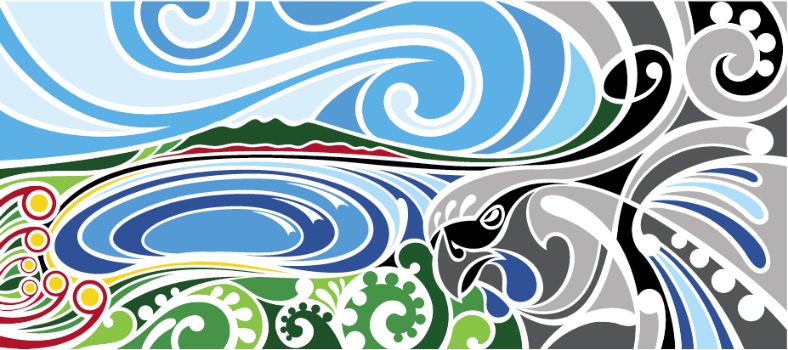 Shane Hansen's work stands uniquely out. On first impression, it looks like doodling born of boredom on second view shapes take form connecting to landscapes even involving creatures and hidden messages. Haphazard clusters of lines create spaces and creatures, which take shape through coloured fragments. Sometimes his work is even carrier of an underlying written message.
More artworks by Shane Hansen ...

Rangitoto by Brad Novak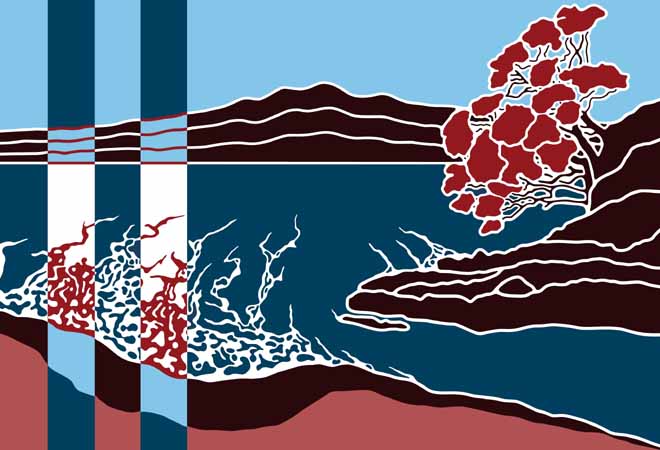 The Rangitoto print by Brad Novak carries the memory to his granddad who often had some comment or story to share when catching sight of the island. Brad Novak a self taught artist and printmaker found his very own printing style that includes shapes, landscapes and animals of Aotearoa.
Takapuna Summer by Alison Gilmor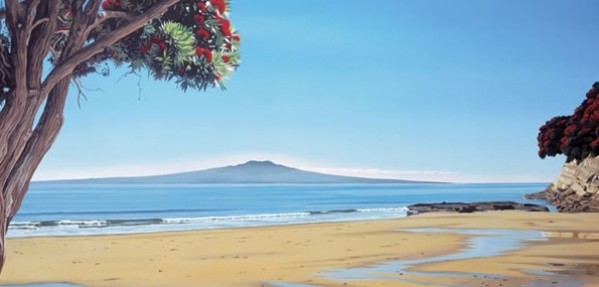 Alison Gilmour grew up and lived her life around the coasts of Auckland. Coastal scenes and plants are the theme of her artwork of almost photo realistic quality. Her description of her work is to symbolise NZ as "a collective nation of people, nature and beauty".
However, trained as a graphic designer her first love is painting and drawing. Mediums she used and uses are acrylic and oil on Belgium Linen today.
More art prints by Alison Gilmor ...
Rangitoto by Marianne Thomson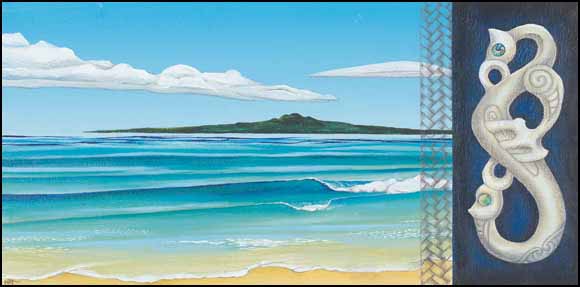 More of Marianne Thomson's art ...
Auckland Harbour from Ponsonby by Fiona Whyte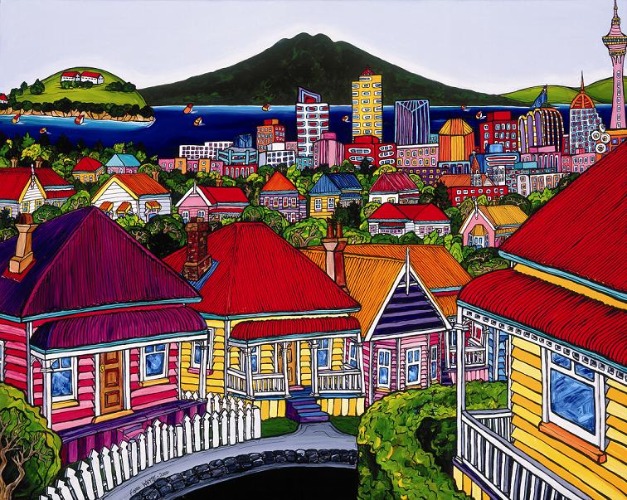 Fiona Whyte an artist of almost three decades painted the Auckland city scene simplified and in bold colours. The outcome is vibrant.
Rangitoto Island Art Print Alternatives

www.prints.co.nz Gift Voucher
Related pages

---
HOME

|

Auckland City

| Rangitoto Island


---