New Zealand Wineries in West Auckland

On a tour through New Zealand wineries in the Auckland region, wine enthusiasts stumble upon names like Brajkovich, Fistonich, Soljan, Ivicevich, Nobilo, Babich, Ozich, Delegats. These are all names originally from Dalmatia today's Croatia.
'150 years ago in 1858 the first Dalmatian's arrived at New Zealand's shores. They left their small Province at the Adriatic coast, that is today known as Croatia. The land offered limited resources to supporting its inhabitants.
Reasons for the different migration streams changed over time. At the beginning the population growth put pressure on scarce resources, then a trade agreement signed with Italy excluded Dalmatia and put it in an outsider position.Later reasons were often simply to escape the Second World War.
Their main income was obtained through farming, working in quarries, fisheries, sea faring and wine production.  Naturally these were the trades they took with them when they migrated to seek opportunities overseas in hope to secure the survival of their families.

The Geographic location of Dalmatia led often to the assumption their country would be part of Austria. This labeled them in British eyes as enemies which made life difficult. Strong willed with enormous perseverance these people worked in goldmines on the South Island and dug gum in Northland Kauri forests.
During those early years Dalmatian settler's bonded with the Maori people living up north. Out of this relation grew the name Tarara which clearly differentiates them to the rest population of New Zealand with European descendants. They carried the name Pakeha.
As the Dalmatians had strong ties to their homeland and their families the plan always was to return. The ones returning, found their home and country destroyed and in poverty. In their descriptions New Zealand was seen as 'the land of good opportunities'. No wonder that many returned and for an immigration to New Zealand became a likely goal.
Explore Kumeu Wine Country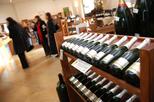 Explore Kumeu Wine Country, just outside Auckland, and taste wines from the region's top vineyards on this half-day or full-day tour.
As you sample wine and artisan cheese at each winery, your guide will teach you about the history of the region, from the early Croatian settlers who planted the first vines to the region's award-winning wines now popular around the world.
Take in spectacular views from the cliff tops overlooking the Tasman Sea and take a stroll along Muriwai Beach. On the half-day tour, you'll visit three wineries; on the full-day tour, visit four wineries and enjoy lunch.
Dalmatians left their traces in Northland:
Dargaville commemorates the gum diggers with a memorial. While the welcome sign in Kaitaia greets trilingual with HAERE MAI, DOBRO DOS̆LI and WELCOME. Other evidence shows families that are proud descendants of more than one ethnic group.
The traditions brought led to the fact that especially in the West Auckland area around Henderson and Kumeu many New Zealand wineries are owned by Dalmatians. Knowledge and passion was their fuel for thriving vineyards that gained internationally high acknowledgement. In expanding to other regions they were pioneers of New Zealand white and red wines. For creative tips on red wine stain removal click here.
Nowadays these proud people show their expertise in all sorts of areas. They reached their goal in sculpting a successful life for themselves and their families.
New Zealand wineries signify one area other popular role models are:
Dame Mira Sazy half Maori half Dalmatian became the first Maori woman university graduate. Later she was president of the Māori Women's Welfare League.
Milan Mrkusich architect and painter who reflected first the abstract movement
Franco Botica who played rugby for the 'All Blacks' and the "Kiwi League".
Fostered by a strong sense of community Croatian clubs were established to meet, keep customs, dance, and language alive. Their uniqueness sculpts and enriches New Zealand's diversity. Contact details to the 'Dalmatian Genealogical and Historical Society' to be found on the page of Auckland's heritage museums.
---
HOME

|

New Zealand History

| New Zealand Wineries


---