Auckland City - "City of Sails"

Business, Culture, Life style
In New Zealand, Auckland City is the most populated city.The population reaches about 1.3 million which is a quarter of New Zealand's overall population. Its historical name Tamaki is strongly interlinked with Maori history. Due to the many different tribes living in this region the stories about its origin vary greatly.
Geographical Auckland lies in the northern part of the North Island. Surrounded by the waters of Manukau Harbour and Waitemata Harbour the city opens up to the Pacific Ocean through the Hauraki Gulf. Like this it enjoys a wind protected location except of the northern winds. A map of Auckland, New Zealand gives a first impression on Auckland's privileged location.
The Hauraki Gulf is playground to many water related activities. Whale and dolphin discovery tours from Auckland City , fishing tours, and sailing cruises start here. Did you know Auckland has the highest ownership of small vessel per capital in the world? A detail that brought in the nick name "City of Sails".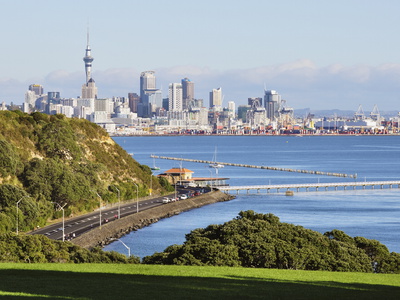 Okahu Bay and Skyline, Auckland, Nort...
Buy From Art.com
On shore the luxurious water front is lined with restaurants, cafes, and a selection of hotels, city beaches, and picnic places enjoying the harbour setting or the views to one of 70 islands.
These islands can be visited by ferry or plane. Some islands are very popular, like Rangitoto and Waiheke. Rangitoto, an Auckland City icon, is an extinct volcano that raises 260 meters above the Hauraki Gulf. Due to its rich acidic soil not many birds or insects live on the island, but still, it has popular walk ways that make great day trips. Rangitoto is only one of about 50 volcanoes in Auckland luckily none of them is likely to become active any time soon. Nowadays some volcanoes were turned into popular parks like Cornwall Park or Mt. Eden. Both offer spectacular 360 degree views of Auckland City, and are popular for picnicking, playing, and jogging.
A man made protruding icon in the Auckland CBD is the Sky Tower. The Sky Tower is with 328 meters the tallest building in New Zealand and the southern hemisphere. As a central main attraction to the city it became also a central entertainment facility. Skycity hosts accommodation, convention, casino, and theatre. The tower also has a restaurant at 190 metre that revolves round in circles so you can admire the 360⁰ view of Auckland while dining. More adventurous activities are the Sky-jump where a fall reaches 85kmp or a Skywalk around the outside at 192 meter metre up in the air.
Walking up the slopes of Auckland Domain one reaches the Auckland War Memorial Museum. Commemorated to New Zealand war heroes during WWI, the entire third floor shows exhibits that bring New Zealand's war role alive and commemorates its losses. In particular on the yearly ANZAC Day ceremonies. The ground and second floor feature artefacts of Maori people and Maori history, New Zealand natural evolution and the past and present of NZ settlers. Changing exhibits, a discovery centre offering fun activities for kids with holiday programs and other museum events make it an interactive place to visit for young and old. Down the slopes are the botanical gardens. During the summer months regular Auckland events like "Music In The Park" take place at the rotunda just beside the hot house.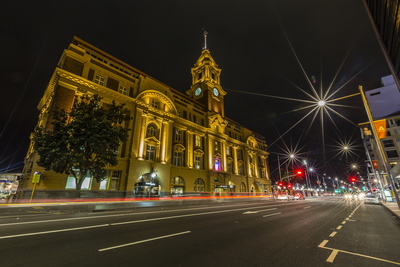 Night View of the Britomart Transport...
Buy From Art.com
In just 30-50 minutes it is possible to leave the city and it's busy city life behind to swap the scenery to lush gren bush and hiking vacations or wild and popular surfing vacation locations. Some surf beaches also offer gear hire so you don't have to have your own surf board to join in. Surf beaches also offer surfing lessons so you can learn important skills before you go and try it yourself.
So in over all staying in hotels in Auckland City is a good place to start exploring Auckland and its wider region alone, with kids, or with the whole family. A wealth of city activities, beach and water activities, hikes, man made sights, and adventures like bungy jumping are close. A popular outdoor world on its own is free to use in Auckland's 21 regional parks.
Author: Karim Cisse webmaster of www.Easy-Science-Experiments.com
Auckland, write your travel tip or story!
Do you have a must have experience in Auckland? Here is the place to let others know about it.
---



HOME

| Auckland City


---